Some of the links below are affiliate links, which means that I will earn a commission if you choose to purchase. This commission comes at no additional cost to you. Please understand that I have experience with all these companies. I recommend them because they are helpful and useful, not because of the small commissions I make if you decide to buy something. Please do not spend any money on these products unless you feel you need them or that they'll help you achieve your goals. If you need any help or have any questions about this, please contact me here.
Pork Rub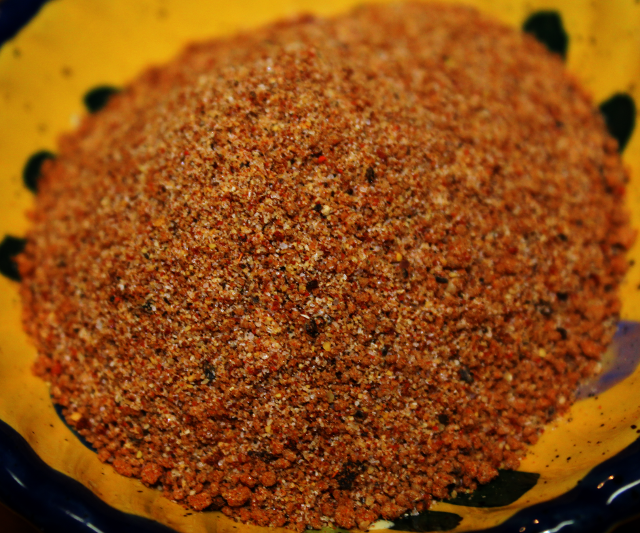 This delicious homemade pork rub is great for grilled pork dishes like...
Grilled pork tenderloin
Grilled pork kebabs
It's savory, a little sweet with a touch of spicy heat.
Perfect for grilled pork, which is a high heat cooking method.
If you're looking for a rub for cooking pork low and slow, check out my barbecue dry rub recipe.

It's great for pork barbecue and barbecue ribs.

Why Use a Pork Rub?
You want to use a pork rub so your grilled pork tastes delicious.

While salt and pepper go great on grilled pork, a pork rub gives your grilled pork dishes more flavor and complexity.
Salt adds a savory flavor
Sugar adds sweetness
Cayenne and black pepper add heat
Herbs and seasonings compliment the pork nicely

Always Use the Freshest Ingredients
When you make your pork rub, you want to use the freshest ingredients.
Ground herbs and spices shouldn't be older than a month or two. Three months tops! If they're older than that, throw them out and get fresh ones. It's well worth it in flavor.
And always grind any spices you can fresh before you use them. This is important for pepper. Always grind pepper right before you use it.
All good cooks do it, and you should too.
It's quick and easy. All you need is a spice grinder or coffee grinder designated solely for grinding spices. (You don't want your coffee tasting like a spice grinder.)
You can also grind mustard seeds for the ground mustard in this recipe.
Mustard seeds stay fresher longer and are cheaper than ground mustard. And taste better when you grind them yourself.

Pork Rub
• 2 tsp granulated garlic
• 1 tsp brown sugar
• 1 tsp white granulated sugar
• 1 tsp sweet paprika
• 1 tsp freshly ground black pepper
• 1 tsp granulated onion
• ½ tsp ground sage
• ½ tsp freshly ground mustard seeds
• 1/8 tsp cayenne pepper
Combine the ingredients in a medium bowl.
Mix the ingredients together with a whisk, breaking up any chunks of brown sugar. Mix thoroughly.
Store any leftover rub in an airtight container. Use within three months. 
For pork chops use about 1 tsp of pork rub for each chop.
For larger cuts of meat use 2-3 tsp pork rub per pound. 

---
Write your comments about this page in the box below.

---