Barbecue Resources for the Best Barbecue
Welcome to the Barbecue Know-How Resources section, a curated list of barbecue resources I strongly recommend for achieving barbecue greatness. 
Many of the tools here are crucial to making the best barbecue.
The items on this page are what I use for grilling, smoking, and creating content for Barbecue Know-How.
Before digging into the excellent resources that I know and trust, a necessary disclosure:
Some of the links below are affiliate links, which means that I will earn a commission if you choose to purchase. This commission comes at no additional cost to you. Please understand that I have experience with all these companies. I recommend them because they are helpful and useful, not because of the small commissions I make if you decide to buy something. Please do not spend any money on these products unless you feel you need them or that they'll help you achieve your goals. If you need any help or have any questions about this, please contact me here.
Barbecue Resources Content
Tools
Reference Materials
Books
Cookers
Tools

Thermometers
Thermometers are essential for all good cooking, not just barbecue.
There are two kinds of thermometers you need; an instant-read thermometer and a thermometer to monitor your cooker.
Every chef and cook in any restaurant worth its salt carries an instant-read thermometer; so should you.
Instant-Read Thermometer
Instant-read thermometers are essential for knowing when your barbecue is ready.
The instant-read thermometer I use is the
It's ultra-fast and accurate; It responds within 2-3 seconds and is accurate to +/- 0.9°F (+/- 0.5°C).
It has a bright backlit display for easy reading when it starts to get dark.
You get all this at a reasonable price.
This is a high-performance instant-read thermometer that won't break the bank.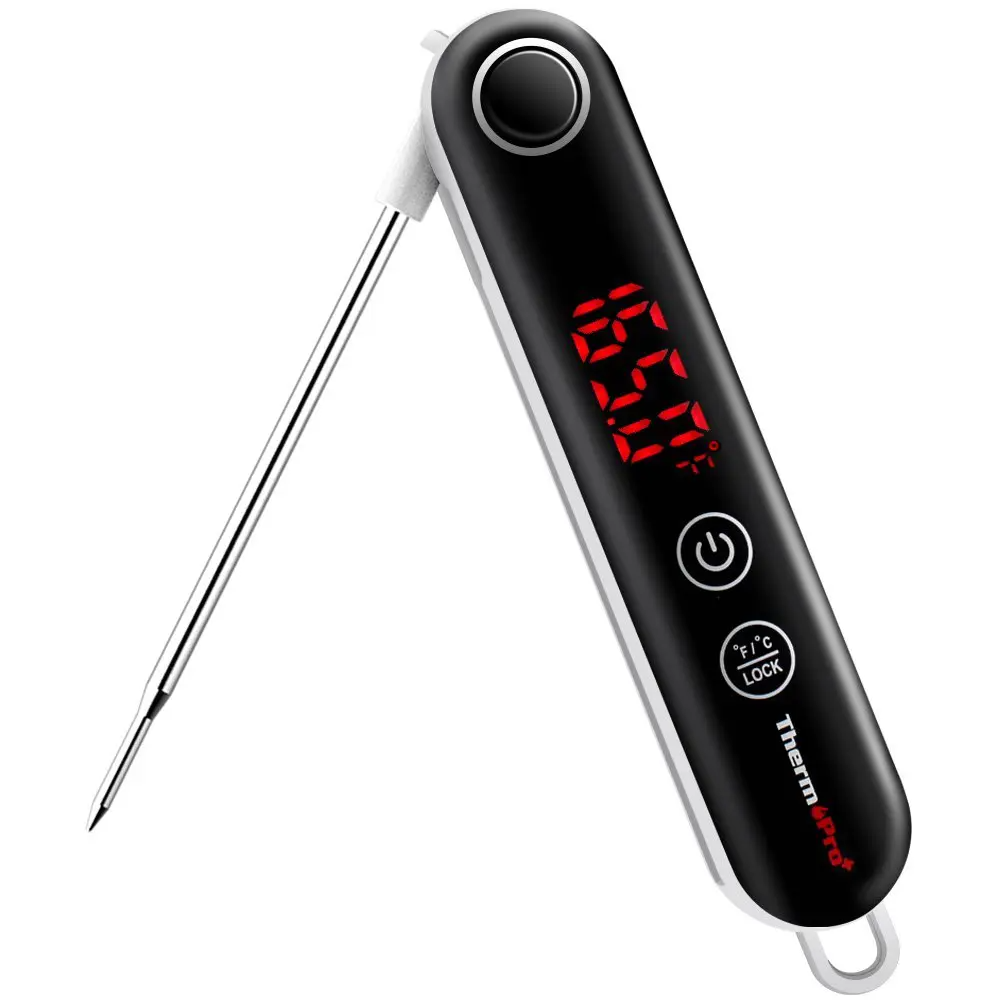 ThermoPro TP18 Instant-Read Thermometer
Wireless Meat Thermometer
The second kind of thermometer you need is a thermometer to monitor your cooker.
ThermoPro calls them Wireless Meat Thermometers; I call them indispensable.
You need one even though you may not realize it.
Would you cook in an oven without a thermostat? Of course not, so how can you prepare food in a cooker without knowing what temperature you're cooking at?
It's like driving a car without a speedometer or gas gauge.
The thermometer your cooker came with is not accurate. It's also too far away from the cooking grate to give you a good reading.
The Wireless Meat Thermometer I use is the
You can tell what the temp your smoker is from 300FT away! Great for when the game is on.
It also has a meat probe.

It has a range from 32°F to 572°F (0°C to 300°C), and is very accurate and affordable.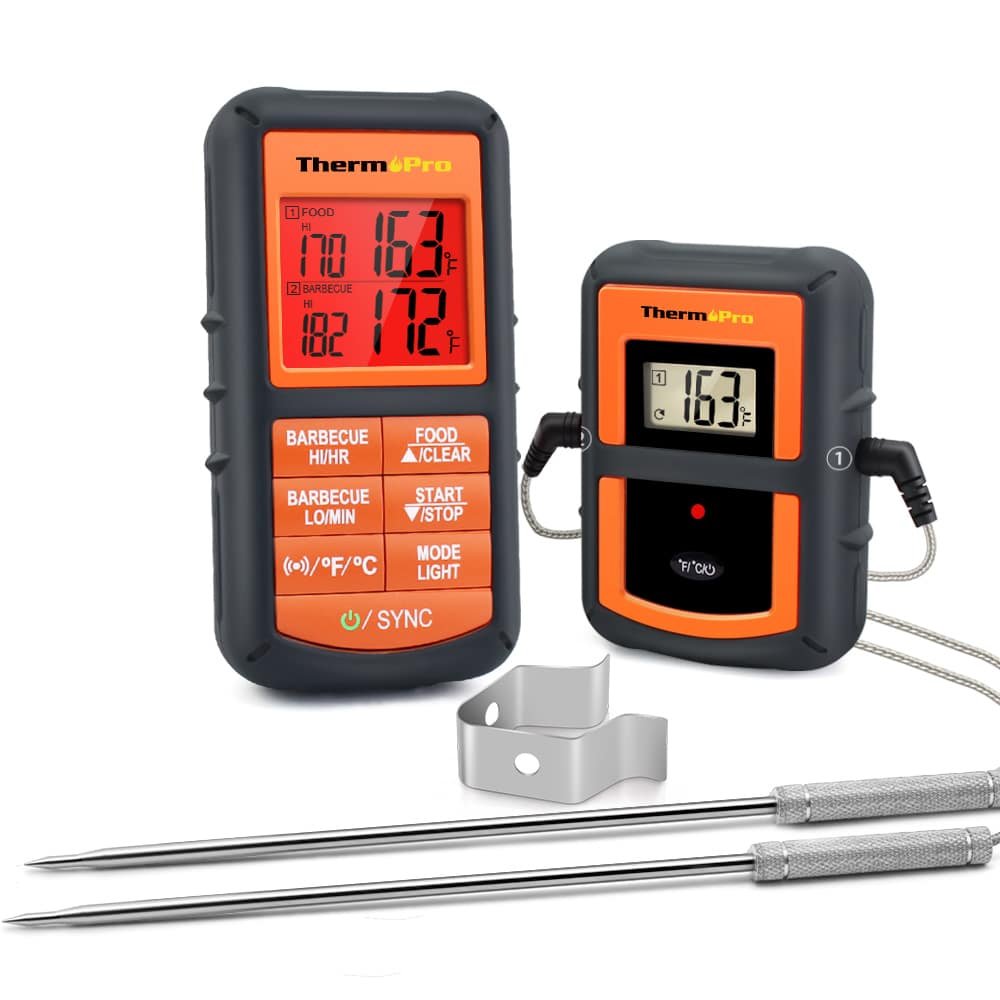 ThermPro TP08S Wireless Meat Thermometer
Reference Materials
Here are some useful PDFs; they are the user guides for my Weber Charcoal Grill and my Weber Gas Grill.
They have basic directions for using each type of grill, cooking time charts, and recipes. 
Weber Charcoal Grill Owner's Guide & Recipes
I love Weber products and their company. Go to their website and put in the serial number of your grill. (If you don't know your serial number or where to find it, they will tell you how on the site.)
It will list all the parts that came with it, the replacement parts available, and any accessories that will fit. It makes using and maintaining your grill very easy and headache-free.
Books
I wouldn't be where I am without the great people in my life. My parents, my children, my teachers and coaches, the people who care about you, believe in you, and teach you the things you need to know.
In that quest to learn the things I need to know; I've read many books.
Some of them were good, some not so good.
Below are some of the books that I've used to learn the things I need to know about cooking and barbecue.
This is one of the first barbecue books I bought. It has practical recipes that work.
I like Cook's Illustrated because they tell you why a recipe is executed a certain way. I want to know how I'm getting my desired result.
This book was published in 2005. It's getting a little challenging to find. I sure am glad I have a copy. It's one of my favorite cookbooks.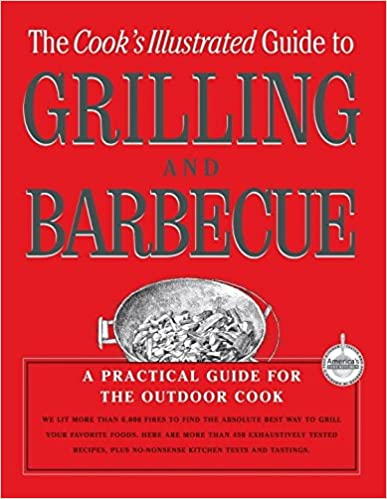 The Cook's Illustrated Guide To Grilling And Barbecue
Barbecue Secrets Deluxe
A barbecue book I really like is 
by Rockin' Ronnie Shewchuk. 
Ronnie's a likable guy; he's also a barbecue champion.
Ron and his team made barbecue history in 2001, becoming the only Canadian team to win a U.S.-based barbecue competition in a stunning upset at the Oregon State Open Barbecue Championship. 
His team, The Butt Shredders, has won more barbecue competitions in Canada than any other.
His book has low and slow barbecue recipes, grilling recipes, and even planking recipes. There's also an excellent rub recipe in the book—the same one on my Barbecue Dry Rub Recipe page.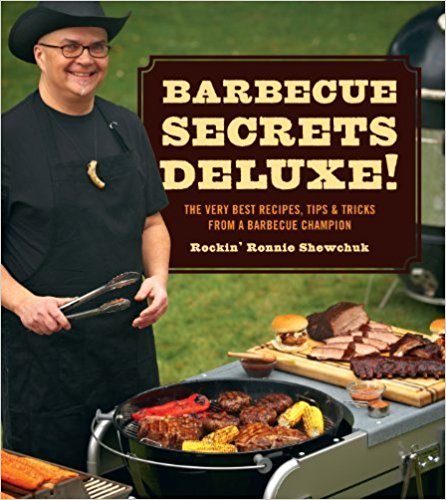 Barbecue Secrets Deluxe-The Very Best Recipes, Tips and Tricks From a Barbecue Champion
Meathead: The Science of Great Barbecue and Grilling
Since science is near and dear to my heart, I have to mention Meathead's book;
Meathead: The Science of Great Barbecue and Grilling.
If you've been to Meathead's website, you know his pages can be quite long as he explains the science of barbecue. 
The book is formatted in a way that makes the science of barbecue easy to understand and use. He tells you what you need to know without a lot of extra stuff you don't need to know.
Although I don't agree with everything Meathead says, it is a good book and well worth the price.
I like it so much that I bought it for my Dad because he wanted to do a whole hog.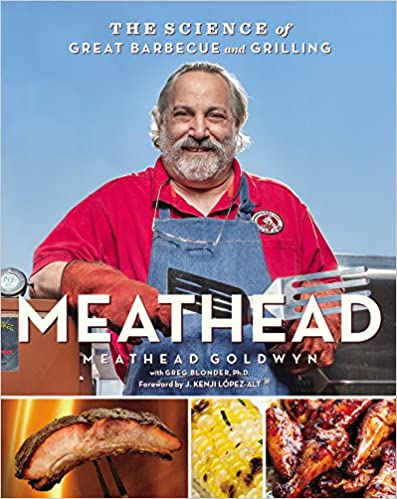 Meathead: The Science of Great Barbecue and Grilling
Franklin Barbecue: A Meat-Smoking Manifesto
If you want to look into the mind of a master, you have to check out Aaron Franklin's book;
Franklin Barbecue: A Meat-Smoking Manifesto
This is where I learned how to cook a brisket.
Franks talks a lot about cooking meat and how he does it. He also talks about meat selection and prep.
The writing makes the book fun and enjoyable as well as informative.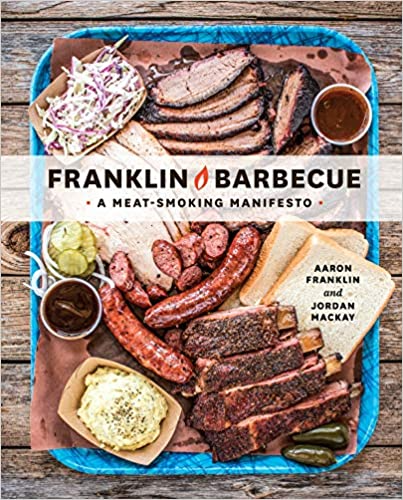 Franklin Barbecue: A Meat-Smoking Manifesto
Cookers
I have many cookers; grills, smokers, offsets, and uprights, which use charcoal, gas, and wood.
There's one thing I've discovered about cooking, especially barbecue;
Even with knowledge, skill, and quality ingredients, you'll still have difficulty making quality food without a reliable cooker than does what you want it to.
That's why out of all the outdoor cooking equipment I have, I do have some favorites.
Weber Kettle Grill
If I had to have only one type of cooker, it would be a Weber Kettle Grill. 
Weber Kettle Grills are easy to use and turn out great food.
You can grill steak, shrimp, and veggies. You can even indirect-grill a whole turkey on one! 
If you set it up correctly, it also does an excellent job as a low and slow barbecue.
The 22" grills are limited in size; you can roast a whole turkey, but only one rack of spareribs will fit on the grate unless you use a grill rack.
Weber does make a 37" version.
Still, the 22" Weber Kettle Grill is a fantastic grill that performs well. Plus, they're very reasonably priced, last for years, and all the replacement parts and accessories are available from Weber or even your local hardware store.
I've always had one and will always have one.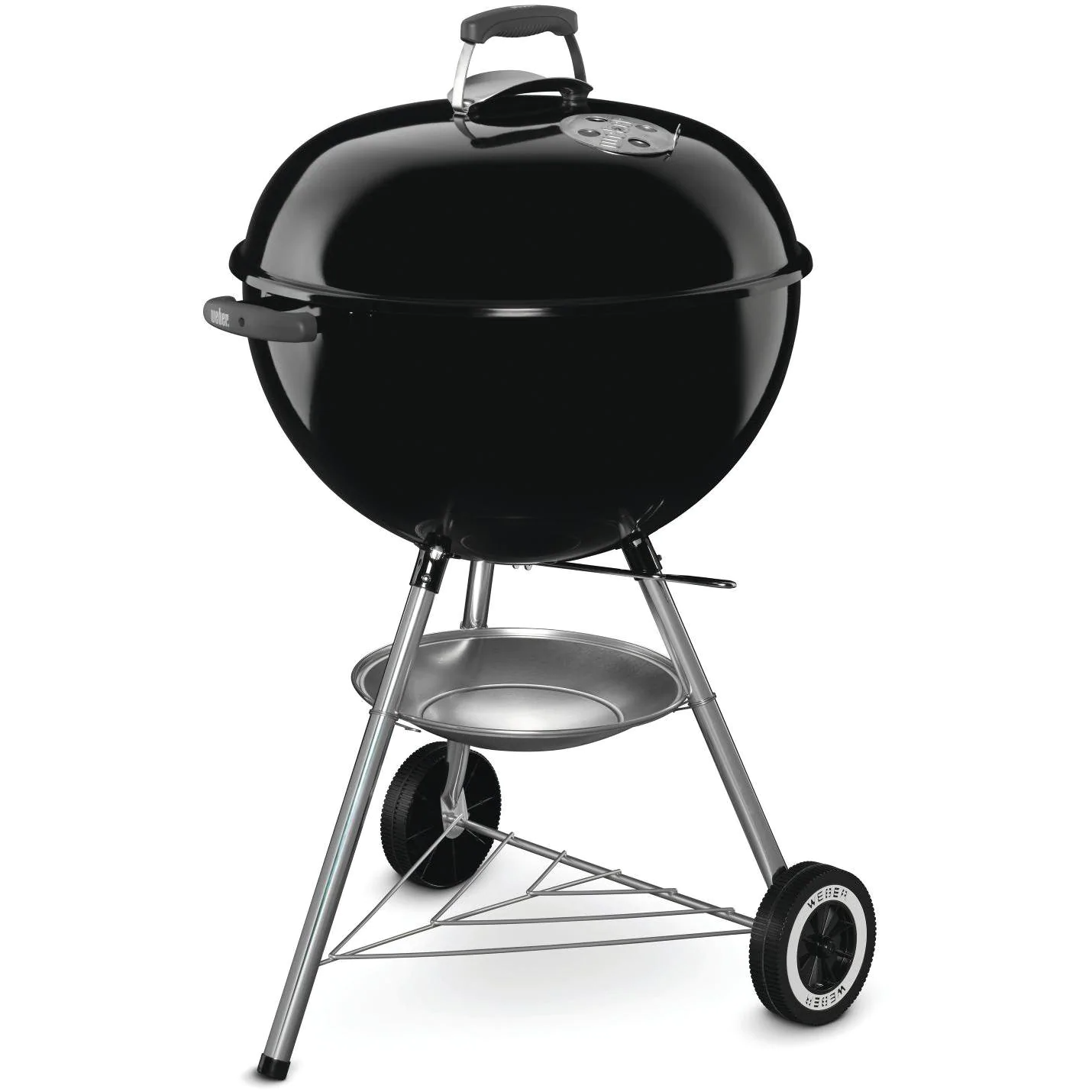 Weber Original Kettle 22-Inch Charcoal Grill
Camp Chef Smoke 24
The Camp Chef Smoke Vault 24 is a joy to use.
It's an upright gas smoker that is 24" wide.
Upright gas smokers make great barbecue; the problem is, most are too narrow. Not the Camp Chef Smoke Vault 24. It's 24" wide and 16" deep.
With space for 5 shelves, it's big enough for multiple racks of ribs, briskets, pork shoulders, and turkeys. I had four turkeys in it for a Thanksgiving party once!
It's a gas smoker, but it's not automated, so you have to dial in the temp. It takes a little practice, but once you do it a few times, you'll get the hang of it. Once it's dialed in, it's pretty much set it and forget it.
When you're selecting the temp for a manual smoker without a thermostat, remember, it's okay if the temp fluctuates a little.
If you want the temp to be 275°F and it's 285°F or 265°F, it's okay.
Temperatures fluctuate when you're cooking. Even your oven at home does this; it cycles on and off, and the fluctuation is ten degrees. As long as you're within ten degrees of your target temperature, you'll have good results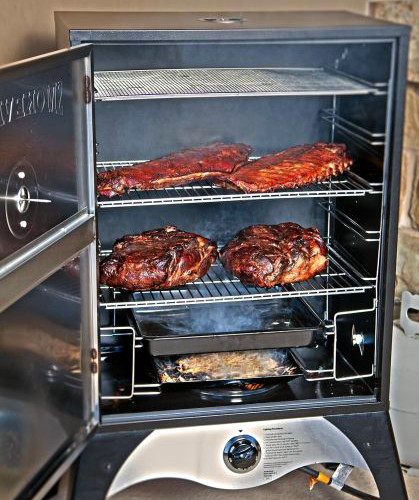 Camp Chef 24-Inch Smoke Vault Propane Gas Smoker
Write your comments about this page in the box below.

---