About Barbecue-Know-How.com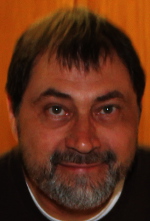 Me!
Hi, my name is Joseph Barbour – Certified Barbecue Nut.
I love most foods, but barbecue has a special place in my heart. It's truly a great American tradition.
Allow me to explain.
In the Beginning
I've always been around great food; my mother and grandmother are fantastic cooks. My Dad can even get in the kitchen and whip up a few things. For example, he makes a mighty fine apple pie!
I was a little spoiled as a kid when it came to food. And even though we didn't have much money, there was always something good to eat.
You never forget the taste of great food. Once you have something fantastic, it's hard to go back. That memory sticks in your mind. You can go to Mom's, and she'll cook you something nice, but when you have a family, you need to take care of yourself.
So, I decided to start cooking. And boy, sometimes it didn't turn out too well!
But eventually, with persistence, I learned.
Setting a New Course
I was so crazy about food and cooking that after many years in the automotive business, I quit my job and decided to attend culinary school.
I went to The California Culinary Academy in beautiful San Francisco, California.
I graduated with a 3.9 GPA and honors in 11 classes.
After graduation, I worked at restaurants focused on fresh ingredients and sophisticated cooking methods, like the Wine Spectator Greystone Restaurant in lovely St. Helena and Julia's Kitchen at Copia in Napa.
One of my first jobs was at the Waterbarge Restaurant. I worked there with Chef John Coss.
While the Waterbarge wasn't a "barbecue restaurant" (it was more of a "destination restaurant," making fresh, gourmet dishes with local, seasonal ingredients), we did have some barbecue dishes on the menu.
We made pulled pork sandwiches. The chef loved smoked chicken, and we used it in many dishes. I made all the sausages for the restaurant and even had Bruce Aidells from Aidells sausages come by and try them. He signed the book he wrote (we used it for the recipes). "Great job on the sausages; keep eatin' those weenies!" It was a great experience!
I love eating and making world-class dishes. However, learning to cook can be frustrating, especially when you spend all that time and money, and what you make is not very good. I know what it's like because I've done the same thing. But it's okay. We can learn from our mistakes and do better next time.
The Barbecue Bug
One thing they didn't teach me about in culinary school was barbecue.
A few classes taught some "barbecue recipes," but not the authentic barbecue you get at barbecue joints.
I learned a lot from the chefs at the Waterbarge. But the barbecue menu was limited. Instead, we mostly cooked California cuisine—made famous by chefs Alice Waters, Wolfgang Puck, and others.
This food is delicious! Very fresh, using local ingredients with the best cooking techniques, and presented beautifully, but it wasn't barbecue.
I wanted to learn the barbecue repertoire.
So, I went back through my culinary course books. Not much there.
I went to the bookstore, bought a bunch of books, and started reading.
I soon realized that barbecue is unlike any other cooking method there is. It's not grilling, and it's not roasting or even baking. Instead, it's cooking low and slow with wood smoke.
Then I started going online.
There are a few barbecue websites, some I like, but none spoke to me. So, I decided to take my cooking skills, use what I learned from my education about barbecue, and contribute to this great American pastime.
Present Day
Now I live in beautiful northern California. I spend my time cooking, developing recipes, coming up with new ideas, and writing about barbecue.
I enjoy it because I feel great fulfillment in helping people create fantastic food for the ones they love.
I also enjoy the thanks I get for it afterward. And when people compliment my food, that's the icing on the cake.
So, I'm here to help you make and enjoy delicious, authentic barbecue at home!
If you need help setting up your smoker, have questions about a recipe or cooking times, or want to say hi, it's fast and easy to contact me.
I'm here to help.
Your barbecue partner,
Joe Barbour
Write your comments about this page in the box below.

---