Creamy Macaroni and Cheese Recipe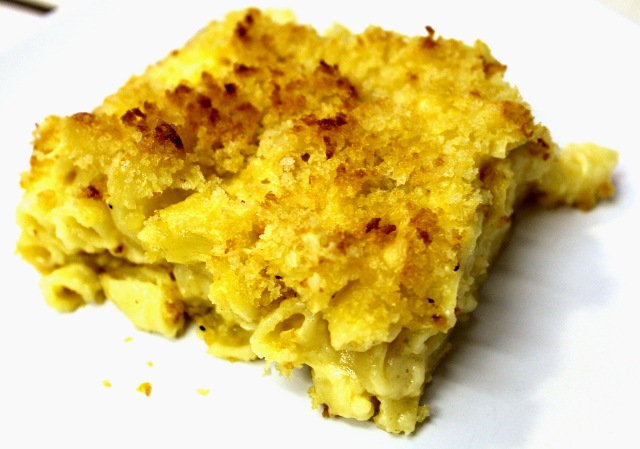 Discover a macaroni and cheese recipe that is truly amazing!
Everybody loves macaroni and cheese.
It's rich, creamy and so delicious. It's gotta be the ultimate comfort food!

Thinking of it brings back fond childhood memories: My Grandmother would make it for me. I remember the first time I had it I thought; "This is fantastic!"
Of course she knew what she was doing and she had a great macaroni and cheese recipe...
Years later I find myself working in a small bakery/café in San Francisco.
Out front they sold wine and cheese. They would let the guests sample the cheese. When the cheese became small, unsightly little nubs, they ended up in the kitchen with me and the chef.
The chef worked her magic and made the most incredible macaroni and cheese from those little nubs. We tasted it and I thought; "Wow! Just like grandma's!"
The chef had an amazing macaroni and cheese recipe too!
There are a few tricks to getting it right though; she showed them to me and now I'm gonna show 'em to you!
The Secret to Smooth and Creamy Macaroni and Cheese
A good macaroni and cheese recipe should give you a dish that is smooth and creamy. The pasta should be cooked perfectly and have a rich, cheesy flavor.
Have you ever made macaroni and cheese and it didn't come out smooth and creamy? Definitely less than dreamy? Maybe a little gritty and grainy...
How about big pools of grease in the pan? Or rubbery mac and cheese? That's the worst!
Well fear not; it's easy to make smooth and creamy macaroni and cheese. The secret is in the roux...
A roux is a mixture of equal parts fat and flour. When liquids are added to the roux, they become thick. When a roux is used in macaroni and cheese, the starch in the flour surrounds the fat in the cheese. This keeps the fat molecules apart so the sauce doesn't "break"*. The sauce is smooth and the cheese is not grainy or greasy.  
Oh...
Another secret to great macaroni and cheese...
Use a little Parmesan cheese; It brings out the flavor of the other cheeses!
* When a sauce "breaks", the ingredients don't blend together like they should. Like when you see a bottle of Italian dressing in the grocery store. The oil is at the top, the vinegar at the bottom. You don't want this for your cheese sauce. It will makes your sauce oily and runny and the cheese will be grainy

The Method
This is the basic method for making a roux and adding liquids to it. 
One Important Note to keep in mind; only add a cold or room temperature liquid to a hot roux or, cold roux to a hot liquid. Never add a hot liquid to a hot roux.
You will not have a smooth sauce. The heat from the liquid will surround the roux and make it difficult to mix together.
Heat a saucepan over medium to medium low heat.
Add your fat, if it's butter let the butter melt. Don't heat it too high. You don't want the butter to brown or burn.
As soon as the butter has melted or the oil has heated add an equal amount of flour.
Stir often until the mixture is bubbly and begins to smell nutty. About 2-3 minutes. A Roux is cooked longer for dark sauces. Remember; the longer you cook a roux the less thickening power it has. The proper consistency should be like peanut butter when you're done. 
Slowly whisk in your cold or room temperature liquid. You must whisk in a little bit of liquid at a time. Once that's mixed together, add a little more. It's takes a little bit of time but it must be done for a smooth sauce. If you add the liquid too quickly you'll have a sauce with little chunks in it.  
The macaroni and cheese recipe below is based on the one we used at the café. It's the classic macaroni and cheese recipe. Everybody I've ever made for has loved it. It's a definite winner!

Macaroni and Cheese Recipe
Note: Always grate the cheese fresh. Don't use the stuff that comes shredded. It has sawdust in it! (I'm not kidding, read the ingredients list.) They call it cellulose powder.
Never make a cheese sauce with cheese that's already grated. The cellulose powder will not dissolve and the sauce will be gritty.
The best Parmesan is Parmigiano-Reggiano. It's from Italy and it's a little pricey, but it's the best in the world.
And you deserve the best!
Remember...Don't buy shredded Parmesan! Grate it yourself for a much tastier dish.

Macaroni and Cheese Sauce

1 lb. Elbow macaroni

8 oz. Grated sharp cheddar cheese (about 3 cups)

3 oz. Grated Parmesan cheese (about 1 cup)

4 1/2 Cups whole milk

1 Stick plus 1 Tbsp. Butter.

1/2 Cup all-purpose flour

Kosher salt

White pepper

Nutmeg
Topping
Preheat oven to 400⁰F.

Grease a large, rectangular casserole or baking dish with 1 Tbsp. of butter.

Bring a large pot of salted water to a boil and cook the pasta a little less than the package instructions say. About 1-2 minutes less, so the pasta is al dente.

While the water is coming to a boil, melt the 1 stick of butter in a large saucepan over medium low heat. Stir in the flour and cook about 3-4 minutes stirring frequently.

Slowly whisk in the milk and whisk constantly so there are no lumps. You should add a little milk and whisk that in, then add a little more milk, whisk that in, etc. It takes a while but it must be done this way to avoid a lumpy sauce. When all the milk is added and the sauce is smooth, cook for about 3-4 minutes over medium low heat.

Turn off the heat and stir in the cheeses until just melted and the sauce is smooth. Add 1 Tbsp. kosher salt, a few grinds of white pepper from your pepper mill and a sprinkle of freshly ground nutmeg. Taste and adjust seasoning if necessary.

When the pasta is done cooking drain and pour into the saucepan with the cheese sauce. Stir gently, but thoroughly, making sure all the macaroni is covered with cheese sauce. Pour the pasta cheese mixture into your baking dish and spread evenly.

Melt 2 Tbsp. butter in small bowl in microwave or in a small saucepan. Add the panko bread crumbs, stir with a fork to combine. Sprinkle the buttered bread crumbs evenly over the casserole.

Place in the hot oven and cook for 25-30 minutes until the cheese is hot and bubbly and the bread crumbs are a nice golden brown. Let stand for 10-15 minutes, if you can resist that long, before serving. Enjoy!
Recipe Talk.
Be a Barbecue Know-Hower!

Do you have a question or comment about this recipe? Enter it below.

Have you've tried this recipe? Give us your review on it.

You'll be helping everyone who reads this page. And who knows, you may become famous!
Write your comments about this page in the box below.

---