Easy Barbecue Sauce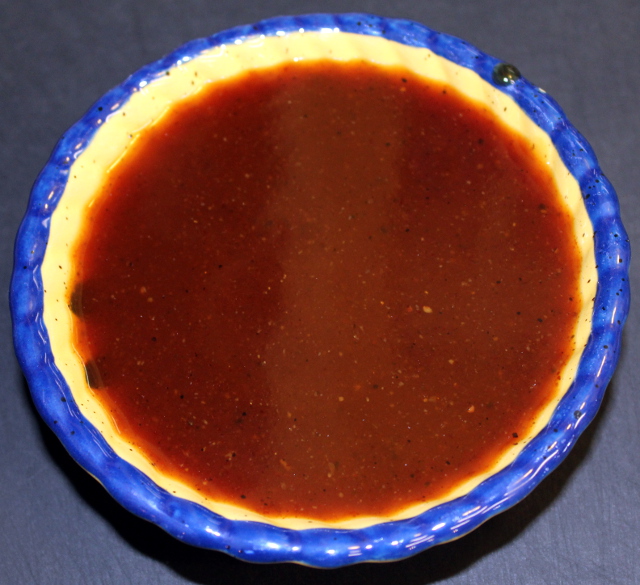 Have you ever said to yourself? "I want an easy barbecue sauce recipe." Yeah, me too. But you also want something that tastes good, right?
Well, it doesn't get much easier this. And this barbecue sauce tastes fantastic!
If you love barbecue and you've got a bit of a sweet tooth, then you'll love this barbecue sauce recipe. Now it's not overly sweet, but it's definitely sweet as far as barbecue sauces go.
This sauce has a bit of smoke, a sprinkling of spice and it tastes oh so delicious. And it's amazingly fast and simple to make. Essentially, you get the best of both worlds...
And that's always a good thing!
Now this is called a barbecue sauce, but it really is a glaze, because of the high sugar content. Add some barbecue seasonings and you have a delicious sauce with a bit of smoke and spice that makes just about anything you put in on amazingly irresistible.
Because of the high sugar content, this barbecue sauce burns easily...
Apply it during the last hour when cooking low and slow, 20-30 minutes when indirect grilling and about 10 minutes for direct grilling.
Also because of the high sugar content, it clings to the meat wonderfully and gives it a beautiful shine.
Easy Barbecue Sauce
Note: This recipe for barbecue sauce calls for the use of a nonreactive saucepan. What does that mean?
It's simply a way of saying to use a pan that will not react with the acid in the recipe. The acid in this case would be the vinegar and anything containing vinegar like the ketchup and mustard. You want to use a nonreactive saucepan because the acids will actually eat away a small bit of the pan and this will end up in your sauce... Not good!
The best example of a nonreactive saucepan would be a stainless-steel saucepan. Teflon coated pans are nonreactive as long as the Teflon is still intact. Using a metal whisk in a Teflon pan may cause some of the Teflon to scrape off of the pan and end up in your barbecue sauce... Also, not good! For best results use a stainless-steel saucepan.
The brown sugar tends to clump and form large crystals as the wet ingredients are added. Check to make sure the sugar is fully dissolved by tilting the pan. Use a spoon to scoop some of the sauce from the side of the pan where most of the sauce is. If you see sugar crystals or large clumps, continue stirring until fully dissolved.
1 1/2 Cups dark brown sugar.
1 1/4 Cups Ketchup.
1/2 Cup cider vinegar.
1/2 Cup water.
1 Tablespoon Worcestershire sauce.
2 1/2 Teaspoons ground mustard.
2 Teaspoons paprika.
1 1/2 Teaspoons Kosher salt.
1 Teaspoon freshly ground black pepper.
1/2 Teaspoon granulated garlic
1/2 Teaspoon granulated onion.
1/2 Teaspoon liquid smoke.
Add all ingredients to a large, non-reactive saucepan.
Bring to a boil over medium to medium low heat, stirring occasionally. A whisk works great for mixing everything together.

Simmer 2-3 minutes.

Serve warm or at room temperature.
Store any extra sauce in an airtight container in your refrigerator. This sweet barbecue sauce keeps well for several months, but it never lasts that long around my house!
This easy barbecue sauce is fantastic on just about anything.
It's great as a dipping sauce for your favorite barbecue and as a finishing sauce for pork and chicken.
You can also drizzle it on whatever barbecue your indulging in at the moment.

Recipe Talk.
Be a Barbecue Know-Hower!

Do you have a question or comment about this recipe? Enter it below.

Have you've tried this recipe? Give us your review on it.

You'll be helping everyone who reads this page. And who knows, you may become famous!
Write your comments about this page in the box below.

---