Coleslaw Recipe Extraordinaire
A great coleslaw recipe is more about the technique than the recipe.
Don't get me wrong, the dressing is important, but if it's a sloppy mess that's lying in a watery pool at the bottom of your salad, it's not doing you much good.
Have you ever made what you thought was the perfect coleslaw recipe? It tasted great, but after a while it was all wilted and watery?
Let me explain what happened…
Where Things Go Wrong
When you dress a salad, which is what coleslaw is, the vinegar, salt and sugars in the dressing slowly but surely begin to break down whatever you just put the dressing on.
The cell walls break down, releasing moisture. This makes your salad, whether it's a green salad or coleslaw, watery and mushy.
This is why, when you have a green salad that's been dressed and you let it sit out for awhile, it becomes wilted and uneatable. The same thing happens with your coleslaw.
This is why the technique, as well as your recipe are very important.
How to remedy this dilemma?

The Secret To Fresh Tasting, Crisp and Crunchy Coleslaw
This is a great trick that I learned at the California Culinary Academy and from the other great chefs that I worked with; how to remove excess moisture from water rich ingredients with salt.
You see…When you dress your coleslaw, the cell walls break down, as I stated above. This releases moisture, which mixes with your dressing and makes your coleslaw watery and mushy.
But…By salting the cabbage beforehand, and removing the moisture, your dressing will be rich and creamy, instead of watery and bland.
The cabbage will also be crisper because, as we all know, when something is wet, it's not as crispy as it would be if it was dry.
This technique dries the cabbage. And when your salad ingredients are dry, the dressing clings much better and the dressing retains its full flavor.
Keep reading to discover the recipe and the technique to great coleslaw.
Creamy Coleslaw Recipe
Coleslaw is an essential side dish at any barbecue. To make it correctly you need the proper technique and a great coleslaw recipe.
The coolness of the salad helps to tame and compliment the spiciness of your barbecue.
You can feel good because your serving your guests some salad with that 40 lbs of meat!
Coleslaw on a pulled pork sandwich is pure barbecue nirvana
This recipe uses 1/2 head of cabbage. You can use all green, or add a little red cabbage, about 1/3, for color and a bit more texture. To shred the cabbage;
Remove the outer leaves of the cabbage and rinse the cabbage well with cold water.
Cut the cabbage in half, then cut one half in half again so you have two quarters. Then cut away the core.
Lay the quarter on a cutting board and julienne the cabbage. (Cut into matchstick sized pieces)
You can julienne the carrot by hand, but a mandoline works great for this task. As a last resort you can shred the carrot, but the presentation is not as nice.

Coleslaw Recipe Extraordinaire
By Joseph Barbour, Mar 4, 2018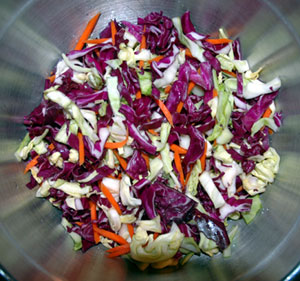 This Creamy Coleslaw is great on barbecue sandwiches or as a crispy side salad
Prep Time: 2 ½ – 5 ½ hours
Cook time: No Cooking required

Ingredients
1/2 head shredded green cabbage

Or

3/8 head shredded green cabbage and 1/8 head shredded red cabbage

1 large carrot, washed, peeled and julienned

1 ½ tsp kosher salt

1/2 cup mayonnaise

2 Tbsp rice vinegar

Freshly ground black pepper to taste

Instructions
Toss the cabbage and the carrot with the salt in a large bowl.
Remove the cabbage and carrot from the bowl, place in a colander and place the colander into the large bowl. Put into the refrigerator until the cabbage is wilted; 1 to 4 hours.
After the cabbage and carrot have wilted and released their moisture, remove from the refrigerator and rinse well with cold water. Dry in a salad spinner or pat dry thoroughly with paper towels.
Mix together the mayonnaise, rice vinegar and freshly ground pepper.
Put the cabbage and carrot into a clean bowl, drizzle the dressing evenly onto your salad and toss well to mix. Chill for about an hour before serving.

---

Important! For extra crispy coleslaw, use a salad spinner. A salad spinner is the best way to dry your greens; it removes all of the water from your salad greens, and it does it in about 30 seconds!


---

---

Recipe Talk.

Be a Barbecue Know-Hower!

Do you have a question or comment about this recipe? Enter it below.

Have you've tried this recipe? Give us your review on it.

You'll be helping everyone who reads this page. And who knows, you may become famous!

What Other Visitors Have Said

Click below to see contributions from other visitors to this page...


Blanching Cabbage? 
I was told to plunge the cabbage in hot water, then let dry.

What about salting apples... 
I'm preparing an apple slaw tonight, I basically add a bunch of apples to steal the cabbages show! I was never a huge fan of just plain coleslaw! …

Write your comments about this page in the box below.


---